The Door County and Kewaunee County Economic Development Corporations announce that the biennial Legislative Days events are scheduled for April 19-20, 2023 in Madison.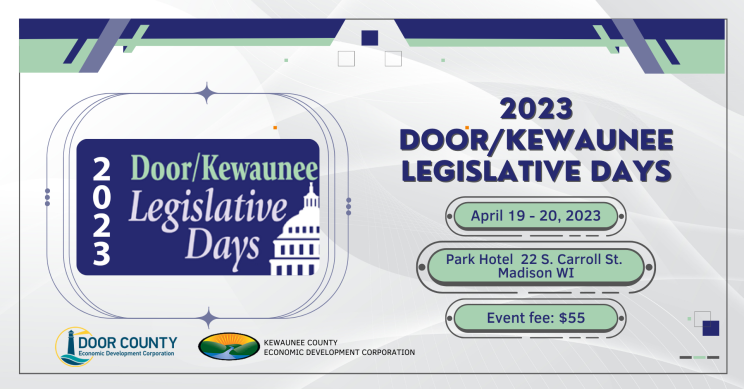 Door / Kewaunee County Legislative Days is a biennial trip to the state capitol in Madison by Door and Kewaunee County residents, elected officials, business owners and other stakeholders, to bring a locally agreed-upon agenda of Door/Kewaunee County issues directly to state elected officials and government agency leaders.
The next Door / Kewaunee County Legislative Days event in 2023 will continue to build on the success of past legislative days events, starting in 2003. Those events brought specific concerns of the community directly to elected representatives and influential government appointees in Madison.
"We are proud to continue the great legacy of Door and Kewaunee County collaborating to address issues that impact our communities," says Executive Director Michelle Lawrie, Door County Economic Development Corporation. "There are many ways for residents and businesses to participate in the events . . . traveling to Madison with the delegation is just one of them."
Legislative Day events will be held at the Park Hotel in Madison.
Members of the Door / Kewaunee Legislative Days Steering Committee
Jon Burk, Door County Manufacturers Association
Scott Feldt, County of Kewaunee
Julie Gilbert, Destination Door County
Ryan Hoernke, Therma-Tron-X
Representative Joel Kitchens, Wisconsin State Legislator
Judy Knudsen, University of Wisconsin Extension
Michelle Lawrie, Door County Economic Development Corporation
Ben Nelson, Kewaunee County Economic Development Corporation
John Pabich, City of Algoma
Ken Pabich, County of Door
Wendy Shelton, City of Kewaunee
Dan Tjernagel, School District of Sturgeon Bay
Josh VanLieshout, City of Sturgeon Bay
Mayor David Ward, City of Sturgeon Bay
Sponsorship Opportunities
Sponsors for 2023 Legislative Days enjoy a number of benefits, including visibility and participation. The following are the sponsorship packages available for the events. Please call Ben Nelson, Executive Director of KCEDC at ben.nelson@kcedc.org  or Michelle Lawrie, Executive Director of DCEDC at michelle@doorcountybusiness.com to confirm your sponsorship or for additional information.
Capitol Sponsor: $3,000
Prominent logo on all event materials and webpage

Unlimited participants in Legislative Days sponsored events (Evening Reception on April 19 and Morning Breakfast on April 20)

Recognition at Evening Reception and Morning Breakfast on Thursday, April 20
Diamond Sponsor: $2,500
Logo on all event materials and webpage

Up to five participants in Legislative Days sponsored events (Evening Reception on April 19 and Morning Breakfast on April 20)

Recognition at Evening Reception and Morning Breakfast on Thursday, April 20
Gold Sponsor: $1,000
Organization name on all event materials and webpage

Up to two participants in Legislative Days sponsored events (Evening Reception on April 19 and Morning Breakfast on April 20)

Recognition at Evening Reception and Morning Breakfast on Thursday, April 20
Silver Sponsor: $500
Organization name on all event materials and webpage

One participant in Legislative Days sponsored events (Evening Reception on April 19 and Morning Breakfast on April 20)

Recognition at Evening Reception and Morning Breakfast on Thursday, April 20
Bronze Sponsor: $250
Organization name on all event materials and webpage

Recognition at Evening Reception and Morning Breakfast on Thursday, April 20