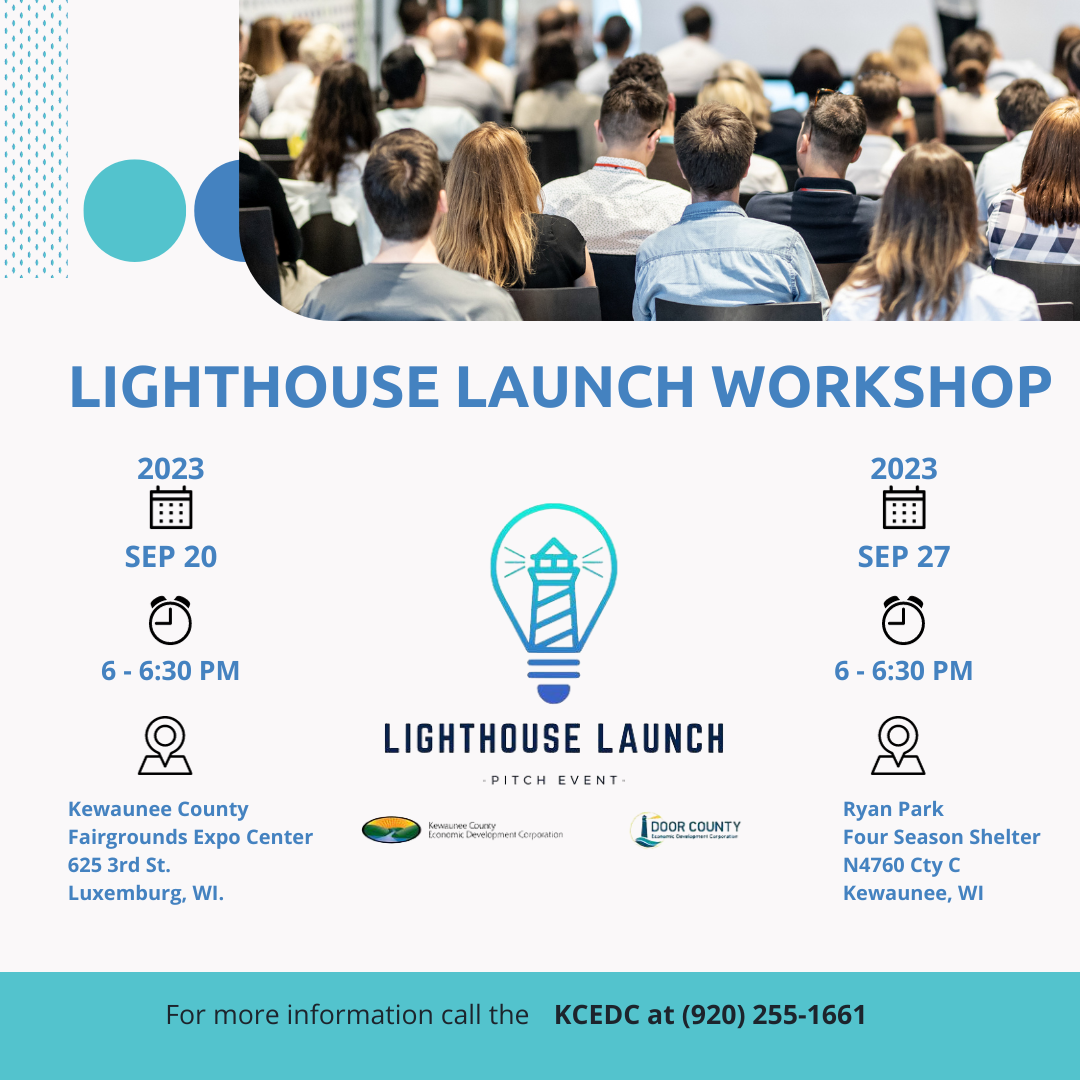 Lighthouse Launch Workshops Announced
The Kewaunee County Economic Development Corporation (KCEDC) in partnership with the Door County Economic Development Corporation (DCEDC), and UW-Madison Extension Kewaunee County will be hosting free workshops to cover the upcoming Lighthouse Launch Pitch Contest rules and application procedures, and how to develop your pitch.
The workshops will take place:
September 20, 2023, 6:00-6:30 PM, Kewaunee County Fairgrounds Expo Center, 625 3rd St. Luxemburg, WI.
September 27, 2023, 6:00-6:30 PM, at Ryan Park Four Season Shelter, N4760 Cty C, Kewaunee, WI
Similar to the television show "Shark Tank," the Lighthouse Launch Pitch Contest will provide aspiring entrepreneurs with a platform to showcase their innovative ideas and business ventures in a four-minute pitch for the business with two minutes of questions and answers with the local contest judges. The Pitch Contest will take place on November 15, 2023, at 6 PM in Algoma, WI.
First prize will be $1,000 and the second-place winner will receive $500. In addition, the winners will advance to the NEW North Regional Pitch Contest on Thursday, November 30 from 5:00-7:00 at Titletown Tech in Green Bay, https://www.thenewnorth.com/local-and-regional-pitch.../.
For more information call the KCEDC at (920) 255-1661.
If you wish to attend virtually, please contact Patrick.nehring@wisc.edu.