Kewaunee County Life: Grow A Love For Year-Round Recreation
With an abundance of natural amenities, Kewaunee County's outdoor recreation opportunities bring the perfect balance for area residents, businesses, and tourists alike.
The Lake Michigan shoreline makes up the entire eastern border of the county.  Add a touch of the bay of Green Bay on the northwest corner and rivers and in-land lakes, there is no shortage of water-related recreation opportunities in Kewaunee County.  That along with picturesque parks, trails, and beaches, there is something for everyone all year long.
In addition to the health benefits, outdoor recreation drives various economic benefits, including drawing in new residents, creating or expanding recreation-related business opportunities, and bringing in short-term and long-term visitors to the area.  If you are an outdoor enthusiast, Kewaunee County Wisconsin is the place to be.
Kewaunee County's geographic location in Northeast Wisconsin allows for excellent outdoor recreational opportunities. In addition to Lake Michigan, visitors will find public access at five inland lakes, as well as the Kewaunee and Ahnapee River. More than 1,600 acres of public hunting and fishing lands provide a breath of fresh air and a chance to commune with nature. Over three hundred total miles of recreational trails exist in the county. A snow tubing hill, small zoo and special events at the county Fairgrounds are also highlights
Motorsports
With the active Luxemburg Speedway located at the Kewaunee County Fairgrounds in Luxemburg, the Riverview ATV Park in Kewaunee, and the snowmobile trails throughout the county, motorsports enthusiasts can fulfill the need for speed all year round.
Add to that several car and vintage snowmobile shows during the summer months and you have the perfect location for motorsports activities and business opportunities for everyone.
Water Sports
Lake Michigan, five inland lakes, the bay of Green Bay, and the Kewaunee and Ahnapee rivers offer water sports opportunities for every level and interest.
From fishing to kayaking and beaches to boat launches, there is plenty to see and do out on the waterways in Kewaunee County.
In addition, the Besadny Anadromous Fisheries Facility is a Wisconsin Department of Natural Resources (DNR) egg collecting and field study site located in Kewanuee where salmon and trout can be seen making their way up river to spawn.
Hunting & Fishing
Lake Michigan, five inland lakes, the bay of Green Bay, and the Kewaunee and Ahnapee rivers, Kewaunee County has an abundance of fishing opportunities.
Lake Michigan Charter fishing is strong in Kewaunee and Algoma with world-class Charter fishing fleets at the ready.  Kewaunee County hosts several large fishing tournaments and draws in visitors from all over the world to take to the waters.
To say that the first day if hunting season is considered a holiday is an understatement.  Along with many private hunting spots in the county, Casco is home to the Little Scarboro State Public Hunting Grounds.
A variety of opportunities are available for trap shooting, archery, along with rifle ranges at Luxemburg Sportsman Club, Kewaunee Trap Club and Black Ash Gun Club in Algoma.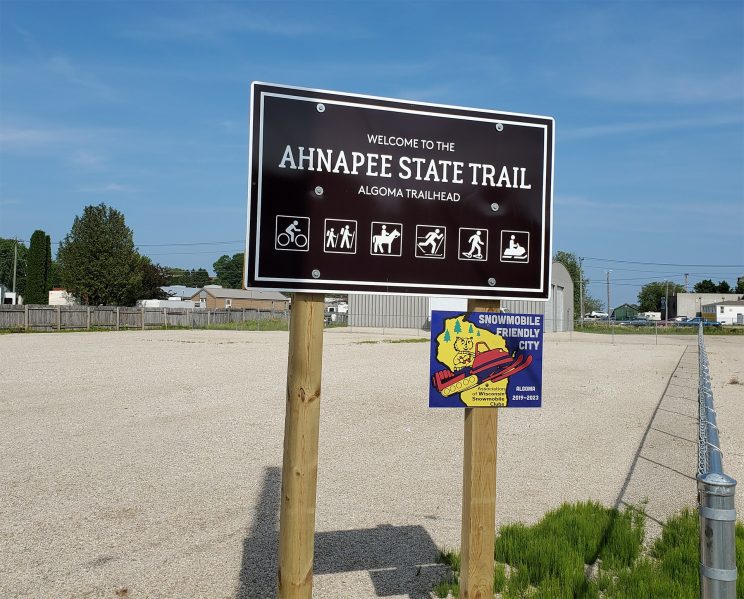 The Trail Life: Biking, Hiking & Horseback Riding
In addition to snowmobiling, Kewaunee County is home to hundreds of miles of trails for hiking, biking, horseback riding, cross-country skiing, and snowshoeing.
Ahnapee State Trail/Ice Age Trail
From the Wisconsin DNR website: From downtown Sturgeon Bay, this 48-mile, county-operated trail winds south along the beautiful Ahnapee and Kewaunee rivers to Algoma, Casco, Luxemburg and Kewaunee, passing by a mixture of evergreen glades, farmland, prairies and wooded areas teeming with wildlife and native wildflowers.
Near Sunset Road in Kewaunee County, the trail branches off in three directions, west to Luxemburg, northeast towards Algoma and southeast towards the city of Kewaunee.
The Ice Age Trail can be accessed at three different points in Kewaunee County: the Forestville segment from Algoma, the Kewaunee River segment in Kewaunee, and the Tisch Mills segment in Tisch Mills.
Ryan Park has about 2 miles of trail for fat bikes, mountain bikes, hiking, snow shoeing and cross-country skiing.
Riverview ATV & Mountain Bike Park has approximately 20 miles of trail for ATV, UTV and off-road motorcycle riders and about 2 miles of trail for fat bikes and mountain bikes.
Parks Aren't Just For Summer Fun!
Despite its name, Winter Park is a featured Kewaunee County attraction for year-round recreational fun. This sports complex located outside of Kewaunee offers snow tubing, snowboarding, skiing, and ice skating (Dana Farm) in the winter along with disc golf, fishing and mountain biking in the summer.
Nearby is Bruemmer Park and Zoo with picnic and playground areas, an ever-expanding zoo and educational facilities along with more than 70 acres of woods to explore.
Red River Park – Enjoy a picnic or picture postcard sunset over the Bay of Green Bay. There are plenty of playground toys and picnic tables and it's an excellent site for birdwatching. The shelter building can be rented and there is plenty of space for a ballgame or other recreational activities.
Bruemmerville Park – One of the county's best kept secrets. Silver Creek runs through the middle of the park providing good fishing opportunities, particularly during the spring and fall trout and salmon runs. A picnic shelter and playground equipment offer fun for the whole family. Located northwest of Algoma.
Peterson Park - Home to a playground, baseball fields, sledding hills, picnic areas, walking trails and disc golf.
Ryan Park - In addition to its trails Ryan Park is home to soccer fields and a picnic pavillion.

And More!
Kewaunee County is home to beaches, golf courses and wellness centers to satisfy a wide variety of recreational needs.