In December 2022, the National Federation of Independent Business (NFIB), the nation's leading small business advocacy organization, announced a new national multi-million-dollar advertising campaign featuring small business owners explaining the importance of making the Small Business Deduction permanent.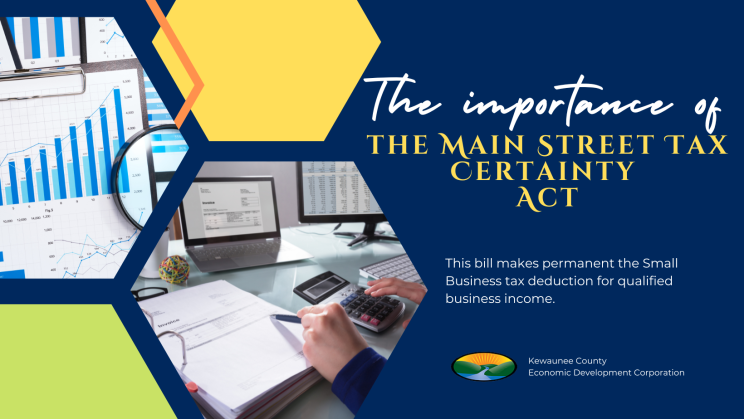 A crucial component of the 2017 tax cut law, the Small Business Deduction was created to bring small businesses' tax rates closer to that of their large, corporate competitors. This deduction is set to expire after 2025.
According to NFIB, more than 81% of small business owners believe the Small Business Deduction is important to the health of their business.
Additional congressional action is needed to make this important small business provision permanent.  This deduction along with other helpful tax benefits are due to expire after 2025.
The Main Street Tax Certainty Act makes this critical deduction permanent. Please ask your Representative or Senators to co-sponsor this crucial legislation and be an advocate for small business tax relief.
NFIB has made it easy for you to make your voice heard on behalf of all small business owners with a tool that will match you to your legislators and a respective message will populate depending on their bill sponsorship status.
Kewaunee County Economic Development Corporation (KCEDC) does not provide tax, legal or accounting advice. This material has been prepared for informational purposes only, and is not intended to provide, and should not be relied on for, tax, legal or accounting advice. You should consult your own tax, legal and accounting advisors before engaging in any transaction.