Housing for Heroes - Wisconsin's Veteran Rental Assistance Program (VRAP)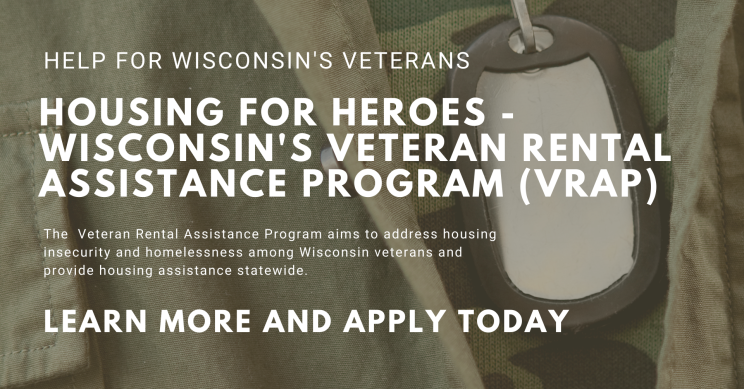 In early 2022, Governor Evers created a Blue Ribbon Commission on Veteran Opportunity to develop comprehensive, long-term recommendations to help address challenges facing Wisconsin's more than 300,000 veterans. The Commission was charged with identifying gaps in existing services, areas in need of robust investment, and reducing barriers to economic security, including efforts to expand access to higher education and job training, address housing insecurity, and increase mental and behavioral health support and substance use disorder treatment.
In October 2022 on the heels of recommendations made by the Commission, Gov. Tony Evers announced a $10 million investment in a variety of programs benefitting Wisconsin veterans. One of those programs, the Veterans Rental Assistance Program (VRAP), provides rental assistance for veterans who are struggling because of their limited or fixed incomes that have not kept pace with record increases in energy and housing costs. Two million dollars has been allocated to this program.
The program aims to address housing insecurity and homelessness among Wisconsin veterans and provide housing assistance statewide. The VRAP also places a high priority on providing the much-needed assistance necessary to result in long-term housing/economic stability for those who are being served.
The Veterans Rental Assistance Program will help veterans offset reoccurring housing emergencies and provide for long-term stability through help with past due and current rent payments and other living expenses.
To apply for assistance or access additional program information, please call 1-833-947-8727; email support@vrapwi.com; or visit the program website at https://vrapwi.com.